Where Is Hot in Europe in September?
Maybe we are stating the obvious, but it's important to remember that Europe, as a continent, has one of the mildest climates in the world. However, the seasonal change is still present and is quite explicit in most parts of it. So if you are a sunbathing and beach person, the best time to visit Europe is between June and August. At the same time, in September, you can still find lovely places to travel in Europe to enjoy the pleasantries of warm seas, oceans, and beaches, despite the average temperature decline.
So, to answer the question of where it is hot in Europe in September, we have prepared a list of the top 10 warmest European places where you can enjoy the sunshine in September. Let's kick-off.
The Best Places in Europe to Stay in September
Even though the temperature in several parts of Europe drops in September, the average temperature is still around 22°C, which is to most people an encouraging one for outdoor activities. This temperature varies from place to place, making some areas warmer on average than the others.
Lands that border the Mediterranean sea have the best weather in Europe in September, with an average temperature of 29°C, especially in their southern coasts. These countries, such as Spain, Malta, and Greece, have the highest average temperatures, making them the perfect places to visit and stay in September.
Tenerife, Spain
Tenerife is Spain's largest and most visited island out of the Canary Islands. Known as the land of eternal springs. Tenerife is one of the best places to visit in September to enjoy the island's warm atmosphere. Each year, Tenerife welcomes over five million tourists from different places worldwide.
Although geographically Teneriffe is more of an Africa than Europe, it is still a part of Spain with Spanish legislation, Euro zone and quality of services.  Thus we believe it should be presented in this article.    
This popular island has several famous beaches, adrenaline-pumping water parks, beautiful surrounding mountains, and charming villages. An outstanding r destination on this island is the Playa de las Americas. This is one of the most lively holiday resorts in Tenerife, with an abundance of local and international restaurants, bars, clubs, and white sand beaches. Whatever your taste is, Playa de las Americas has something that suits your taste.
In the north of Tenerife, there are black sand beaches. This sand retains heat better, making the island warm even during winter.
On top of that, these beaches look extremely exotic.
Explore the beauty of nature on this island: swim on the warm beaches, go on a boat ride while watching the dolphins and whales, travel through the villages and get and take a glimpse at their culture, experience the Tenerife carnival, and learn more about the heritage of the island in their museums.
Malta
Are you looking for the best European country to visit in September? Then Malta is the perfect place for you. This small island lies in the middle of the Mediterranean Sea.  As long as you're in Malta, the adventure never ends.
The capital city of Malta, Valletta, has no beaches. However, you can discover the world of endless beaches on the north coast of this island. The European Union(EU) recognizes about 97% of these beaches as some of the cleanest among its member states. These beautiful and safe beaches are some of the best places for water ski in Europe. Expect other water sports such as snorkeling, scuba diving, kayaking, and boat tours of the island.
One of the most popular beaches in Malta is Mehilla Bay. Apart from the activities that abound on this beach, it also has an extensive shallow seabed, making it safe for children to swim in.
Malta, also known for its rich cultural heritage, which allows tourists to take a trip to some of the UNESCO world heritage sites, such as the Tarxien temples, Ggantija, and the Ħal Saflieni Hypogeum. On top of that some of the museums are highly recommended for a visit, like for example a National Museum of Archeology and the Malta Maritime Museum. Both are free for entry and have guided tours from 9:30 am to 4:00 pm.
If all you need is a quiet place to relax and enjoy the summer breezes, then villages like Marsaxlokk and Marsaskala are good places to live while in Malta. However, for bustling nightlife, St. Julian is the best place for you.
Ibiza, Spain
Ibiza is a small island located not far from the southeastern coast of Spain. This island is just perfect for a honeymoon getaway. There are several activities to do and places to go on this island, beginning with its beaches. These beaches have charming blue-colored water with soft white sands. Ibiza does not lag in its nightlife as well. Tourists can go for several sports activities during the day and wrap it up with fun-filled parties at night; this could even be a boat party.
Apart from the beaches on this island, a famous place and interesting place for sightseeing is the Torres de Savina, a tower built centuries ago to prevent attacks from pirates. Although the tower itself is closed for visitors, you still can hike up the cliff leading to it and the outside view of the tower and sights around it. This cliff is relatively tall so be careful if you are afraid of heights. You can also visit some other popular sites such as Dalt Villa to sightsee; Es Amunts for nature spotting; and Sant Mateu d'Albarca, a little island with a romantic ambiance.
Ibiza's weather remains hot, making it one of the best places in Europe to visit in September.
Madeira, Portugal
Madeira is yet another island in European jurisdiction, Portuguese in this case, just off the coast of Africa. Yes, there are beaches to enjoy here but the place is well known for its sightseeing opportunities. It is a chain of volcanic islands with Madeira itself being the largest of them all, offering to those who visit them a mild climate and fantastic landscape. Due to its landscape, sightseeing is one of the favorite things to do in the capital of Madeira.
If you type in Google "Portugal September Weather" Madeira is going to be one of the first lines in your search results.  It offers a variety of outdoor activities that tourists can take part  in. One of them is a hike to  a famous waterfall in Madeira, the 25 Fontes falls. Also there are plenty of impressive places to visit that have been formed by volcanic eruptions. If you've got some excellent photography skills, come along with your camera and take several beautiful, insta-worthy pictures of this island.
Visit the beautiful gardens of Madeira island, such as the Monte Palace tropical garden and the Madeira botanical gardens, for a fresh experience with nature.
Don't forget to enjoy the rich and signature dishes  of this island, taste the famous Madeira wine, and shop all you want in the local markets before leaving the island.
Cyprus
The Island of Cyprus is one of the island countries in the Mediterranean. Its location just off the southern coast of Turkey, a popular sunbathing destination itself, makes it one of the warmest countries in Europe in September. The island is famous for its archeological sites, such as the remnants of the ancient Kingdom of Kourion, the Tombs of the Kings, ancient Salamis, and several others. Here you can visit the ancient houses of gladiators, public baths, and the infamous Greek theaters and appreciate their ancient architecture designs.
Cyprus also has several white sand beaches where you can enjoy September's excellent sun and outdoor activities. If you're tired of the beaches, the Paphos Aphrodite water park can help you switch things up with several thrilling water rides and games.
Other places like the Cyprus Museum, which houses have an extensive collection of Cypriot antiquities, will help you learn more about the country's history.
Algarve, Portugal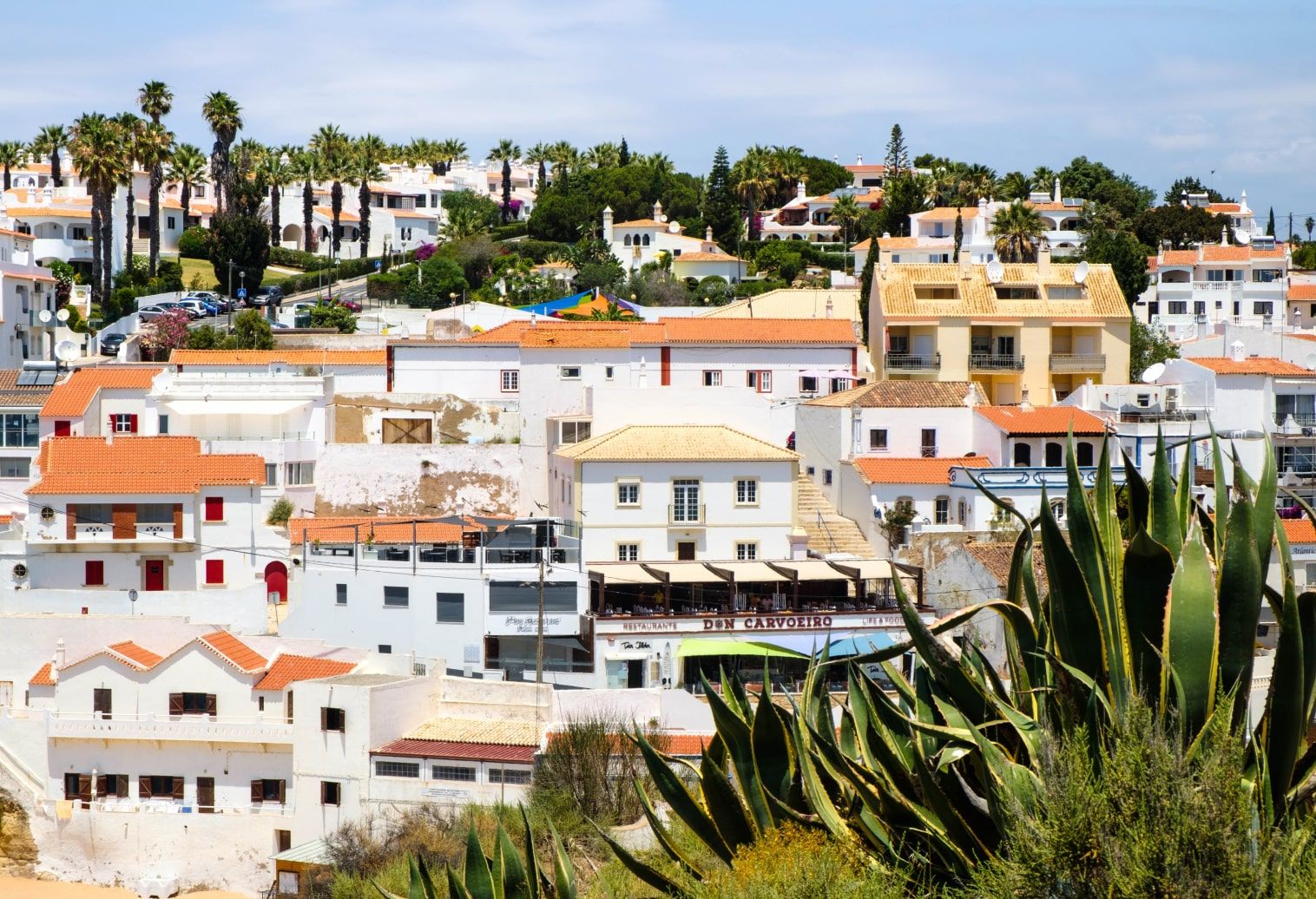 If you're looking to go on a cheap trip in September 2022, then Algarve is not something you should be looking at. However, if you are a surfing lover - Algarve is an  ideal destination for you as it is located on an ocean shore with great waves which attracts surfers all other the World. Also Algarve belongs to a Portuguese territory which is  famous for its cuisine, wine and hospitality.  So many people come here to enjoy Portuguese culture and tradition.  
The Algarve region is home to several historic towns and fishing villages. Here you can enjoy the ancient atmosphere and walk around streets of old towns. One more  top seasonal attraction here - is the world's largest sand sculpture festival, known as FIESA. This festival takes place yearly in Pera, also called the Sand City. However, tourists are welcome to see creative and breathtaking sculptures made from sand all year round.
The beaches in Algarve are some of the most beautiful in the world, bordered by colorful cliffs. Its most visited beach is the Ponta de Piedade beach, which is not only filled with water sports activities but also has gigantic rock formations around it. You could go cave kayaking on these beaches, admiring the beauty of nature.
Algarve is a lively place to be. The towering mountains surrounding it make hiking a favorite activity here. In addition, you'll find open-air music performances and live concerts throughout this region, all free to attend.
Santorini, Greece
Santorini is one of the most visited places in Greece, receiving up to two million visitors per year, so it is usually crowded during the peak summer season. However, it is one of the best places to spend your European holidays in September because this is when the crowds start receding.
The prominent reasons Santorini keeps getting millions of visitors each year are its picturesque environment and its beaches. Just like the beaches in Dubai, the azure waters and the sandy beaches make it perfect for swimming, sunbathing, or simply relaxing and enjoying the view.
Santorini is also one of those islands affected by volcanic eruptions, giving its landscape its distinct shape. So, while kayaking on the beaches, you can also admire the beauty of nature by viewing the rock and cliff formations around them. The villages in Santorini are some of the most beautiful among those in Greece.
A typical example is the village of Oia, which perches on a mountain. Its strategic location gives a perfect view of the sea and sunset in the evening. It is delightful to take a walk around this village and view its unique architecture, beautiful mix of colors, and perfectly peaceful ambiance.
Santorini has many beaches, so watersports activities are common on the island. You could also visit their art galleries, museums, and archeological sites and go on a wine tour. While in Santorini, you need not worry about places to stay since new hotels open yearly on this island to accommodate the number of visitors it has each year.
Costa del Sol, Spain
If you want to visit Europe in September, there's no better place than the sunny Costa del Sol. This region has long summer months, from June through late September.
Because this region is famous for its warmth, one of its most popular tourist destinations is its beaches. Its beaches got awarded the blue flag in 2016: this means they're suitable for as many water sports as you'd like. After a fun day at the beach, take the Teleférico Benalmádena cable ride, exploring the beauty of Malaga, the province's capital.
Bioparc Fuengirola animal park allows you to see several wild animals in an environment that recreates their natural habitat. This park is unique for having not just any wild animals but also some species of endangered animals such as the Sumatra tiger and the Roloway monkeys.
Costa del Sol has the nickname Costa del Golf because it is the home of golf. It has over 70 golf courses, with some, such as the Valle Romano Golf & Resort, overlooking the Mediterranean Sea.
Your trip to this region is incomplete without tasting the famous summer dish, Espetos, and some Spanish wine.
Croatia
Islands and waterfalls of Croatia are amongst its most prominent features for tourists. This country has over a thousand islands and about 90 scenic waterfalls. One of the most visited places in Croatia is the Plitvice Lakes National Park. This park spans over 30,000 hectares and is a collection of several waterfalls and watercourses above and underground. They come together to form the upper and lower lakes. The forest overlooking the lake is home to bears and several species of birds. This is the most beautiful natural park in Croatia.
Zagreb is the capital and the cultural hub of Croatia. It has all the city fun you can imagine. You could visit its Museum of Broken Relationships, the Museum of Illusions, its famous Dolan market, or even take a walk in its streets.
Away from the hustle and bustle of the city is an old and golden town called Dubrovnik. This town is otherwise known as the "Pearl of the Adriatic."
This town has preserved its architecture and culture for several centuries. Walking the city's walls, passing through its narrow streets, and tasting its dishes are things you must do when visiting Croatia.
Sardinia, Italy
September temperature in Italy varies in its different parts. However, the island of Sardinia stays moderately hot in September.
The beaches and beautiful rock formations draw tourists to this beautiful island. However, Sardinia has a beach for everyone, ranging from the rugged to those with cliffs and shallow waters safe for swimming.
Another popularly visited place in Sardinia is Neptune's Grotto. This cave has stalactites and stalagmites that have been carved into scary structures. Different rooms in this cave hold fun for visitors and important lessons never to forget.
Sardinia also has archeological sites like the Nora archeological site and the Su Nuraxi of Barumini. The Su Nuraxi of Barumini is the most extensive site with diverse archeological treasures in Sardinia.
Antalya, Turkey
Finally, on the list of where to go in Europe in September is Antalya, Turkey. Antalya has several beaches, historical sites, museums, and monuments.
One of the most visited monuments in Antalya is the Yivli Minare, an architectural design built centuries ago that stands tall among others. It is an example of a well-preserved structure.
The historical ruins in Antalya, such as the ruins of Termessos and Aspendos, are popularly known. Aspendos has a well-preserved structure, while what's left of Termessos are its ruins. However, both are rich in history and are beautiful places to be. Antalya has one of the largest aquariums in the world, with several collections of fish, museums, and thrilling natural parks. It is one of the fun-filled places to be in Turkey.
Conclusion
There are several other European places with perfect summer weather in September. An ideal example is the Corsica weather in September, which is just perfect for honeymoon getaways and European holidays. So go on a trip and enjoy an excellent September in these warm countries.