Best things to do in Dubai
There are many things to do in Dubai, we hope this list will give you some inspiration for ideas for your next trip out to the UAE. This list looks at interesting historical sites, world-class shopping malls and the bustling markets of Dubai, where to eat out and some major landmarks to tick off the bucket list. So without further ado, let's get started!
Shop in out of this world shopping malls
Dubai's shopping malls are amongst the best in the world. You can find anything and everything here. Dubai is home to the biggest shopping malls in the world, and the largest of them all is The Dubai Mall. The Dubai Mall is home to over 1,000 stores, including renowned names such as Nike, Chanel and Burberry. You can also find a wide range of food options here, from popular fast food outlets to elegant cafes and restaurants. Other interesting features of the Dubai Mall include its fully-featured Olympic sized ice rink, which is comparable in size to an NHL ice rink, and a 360° cinema with more than 170 screens, featuring movies from around the world, with 12 retail outlets dedicated just to movies and popcorn! Dubai Mall also features its own water park with a 120-metre slide, and a beach with more than 60 secluded pools - it really does sound like something out of a movie.
Dubai Creek is another popular shopping destination in Dubai. At Dubai Creek, you can find high-end fashion retailers such as Dior and Louis Vuitton, as well as world-renowned cafes and restaurants. You also have the option to paddle along the creek the gives the shopping mall its name on a variety of water sports rentals, including kayaks and jet skis!
Check out some of Dubai's top shopping districts such as Sheikh Zayed Road or Souk Al Bahar for luxury brands like Louis Vuitton or Gucci. There are also budget options available if you're looking for something unique. Other top shopping malls in Dubai include The Gate at Jumeirah, The Avenues at Jumeirah, and Dubailand.
Hit up the souks (Dubai's ancient markets) in Deira or Bur Dubai – both offer a wide range of goods, from spices to bespoke custom made clothes - spend an afternoon browsing through souks such as the Gold Souk, Spice Souk and the Jewellery souk - you're sure to find something for you. Be sure to try local delicacies authentically made in the souks such as biryani or shawarma. Some of the spice vendors have been selling spices in these markets for hundreds of years. They sell the spices direct to the customer, so you can see and smell the spices before purchasing.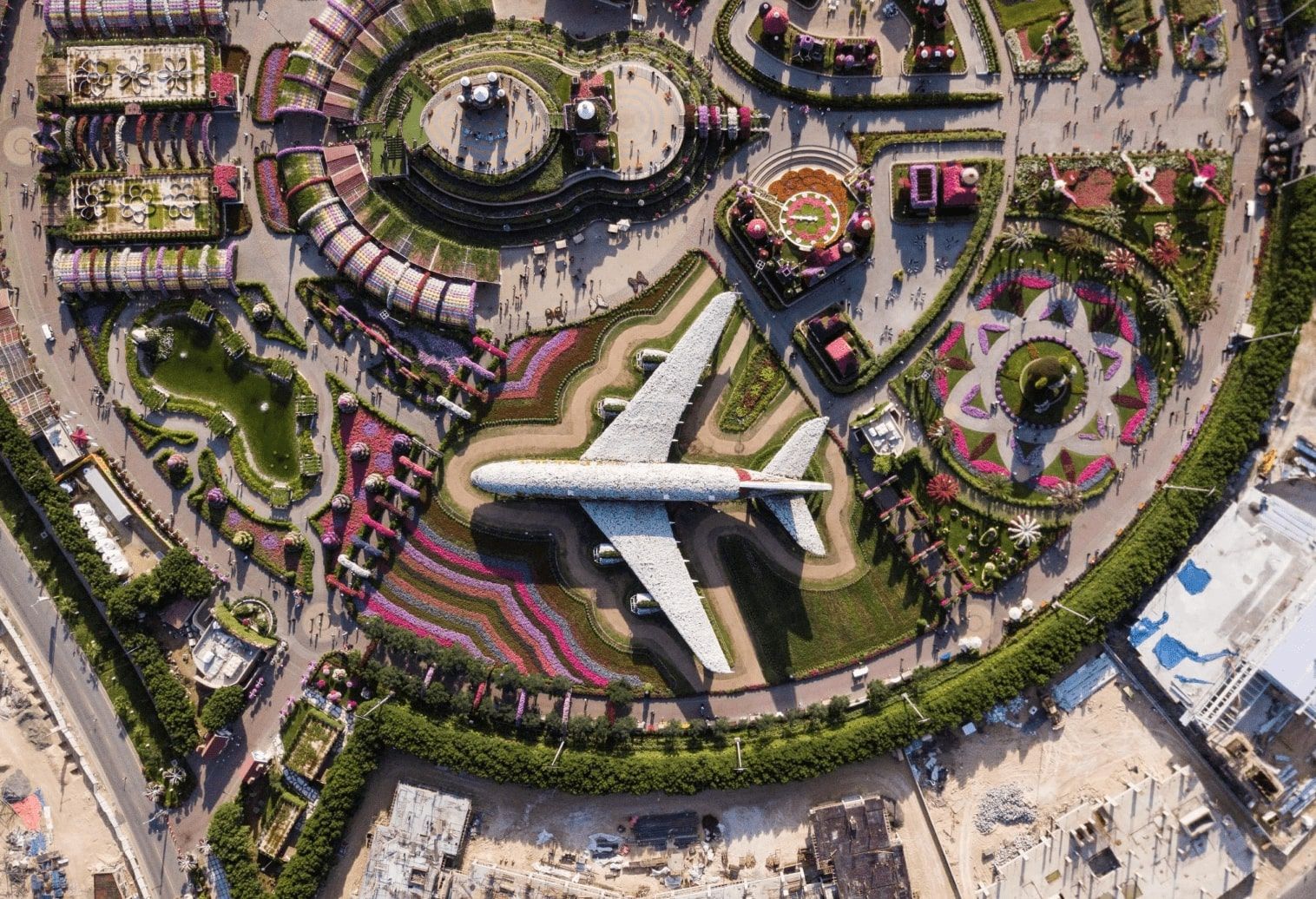 Food & drink to tantalise the taste buds
Dubai is home to some of the best restaurants in the world. Whether you're looking for a romantic meal at a Michelin-starred restaurant, or an affordable family-friendly establishment, Dubai has something for everyone. There's a wide range of food and drink outlets in Dubai, from popular fast-food chains to more exclusive restaurants. Some of the most famous restaurants in Dubai include The Ritz-Carlton Hotel, Emirates Palace Restaurant and the Fish Market restaurant at Mina Towers. You can also find some great value options if you're looking for something quick and easy – plenty of street food can be found in the souks, and of course, there's always a Mcdonald's or KFC around the corner!
Some of the not-to-be-missed culinary gems to eat at in Dubai include the Noodle Bar, Saffron & Co, or Al Majaz Palace.
Theme, Water and Safari parks
If you're interested in finding some fun for all the family, then head to Dragon Land amusement park, located within the Motiongate Dubai is a movie-based theme park located in Dubai Parks and Resort. The Motiongate Dubai is a movie-based theme park located in Dubai Parks and Resort. There are also plenty of theme parks such as Ferrari World, Legoland and Aquaventure where you can splash around in refreshing pools while watching stunning scenes from Dubai's famous landmarks via large viewing screens.
The world's second-largest indoor water park, Soaring Eagle Waterpark with its highest slide reaching an astonishing 50 metres high, is open from November to March. It features a wide range of slides, lazy rivers and swimming pools for all ages. With a world-class spa and activities including parasailing (weather permitting), jet skiing, camel riding along with other water sports, there's fun for all the family to be found here.
Butterfly Farm at Al Qasr Hotel and Resort is also not to be missed – take a trip through this magical place where butterflies swarm around you in displays of colour and texture. Amazing!
Dubai Safari Park is another great place to spend an afternoon with your family or friends – it's home to more than 500 animals from all over the world, including lions, tigers, camels and elephants.
Spa days for times you want to take things at a more leisurely pace
Take a little time out to relax at one of Dubai's many luxurious spa resorts like the Shangri-La, Dubai Deira or the Jumeirah Emirates Towers. Expect to pay somewhere in the region of Dh200- Dh500 for a massage, and Dh1,000-Dh2,500 for an hour in the spa.
Treatments include:
Hydromassage - A hydrotherapy treatment using water jets that helps to relax and rejuvenate the body.
Ultrasonic Hydraulics - Uses high-frequency waves to break up cellulite, mineral deposits and reduce inflammation.
Steam Rooms & Sauna - Help to improve digestion, circulation, achieve relaxation and increase oxygenation in the skin.
Museums and culture for those culture vultures amongst you
For a country that has put all of its eggs into embracing the new, it may come as a surprise there's much in the way of museums and history for those culture vultures amongst you. From the ancient spice markets to the celebrations of past cultures and arts in its many museums and galleries, Dubai seems to have a huge amount to offer.
Historical Sites to check out include Ajman Fort and the Khasab District which was once home to a thriving Russian community. There are also several mosques, palaces and souks worth a visit.
You could visit the Dubai Museum or the Sheikh Zayed Grand Mosque, one of the largest in the world. Entry is free on Fridays but expect to pay AED 3 for the other days. The Dubai Museum features historic artefacts such as the world's largest collection of camels and the only car created by Abdul Latif Jameel.
The Sheikh Zayed Grand Mosque was built with a donation from Sheikh Zayed bin Sultan Al Nahyan, president of the UAE from 1959 until he died in 2004. It is a beautiful building to simply look around if not to pray in.
As far as religious culture goes, one of the more interesting buildings to check out would be the Abrahamic Family House just a 1 hour and 30-minute drive from Dubai, down the road in Abu Dhabi. The complex features a Church, Synagog and Mosque under almost the same roof, encouraging a strengthening of community between the religions.
For those looking for a bit more in the way of the arts, watch a performance at the Dubai Opera House. This legendary opera house is one of the most recognisable landmarks in Dubai and features operatic singing sensations as well as Arabic dancing, aerial acts and more.
Get cultured by checking out some of Dubai's top cultural attractions like The Mohammed bin Rashid National Museum or Al Saeediya Arts Complex where you will find exhibitions of Arabic, Asian and European art.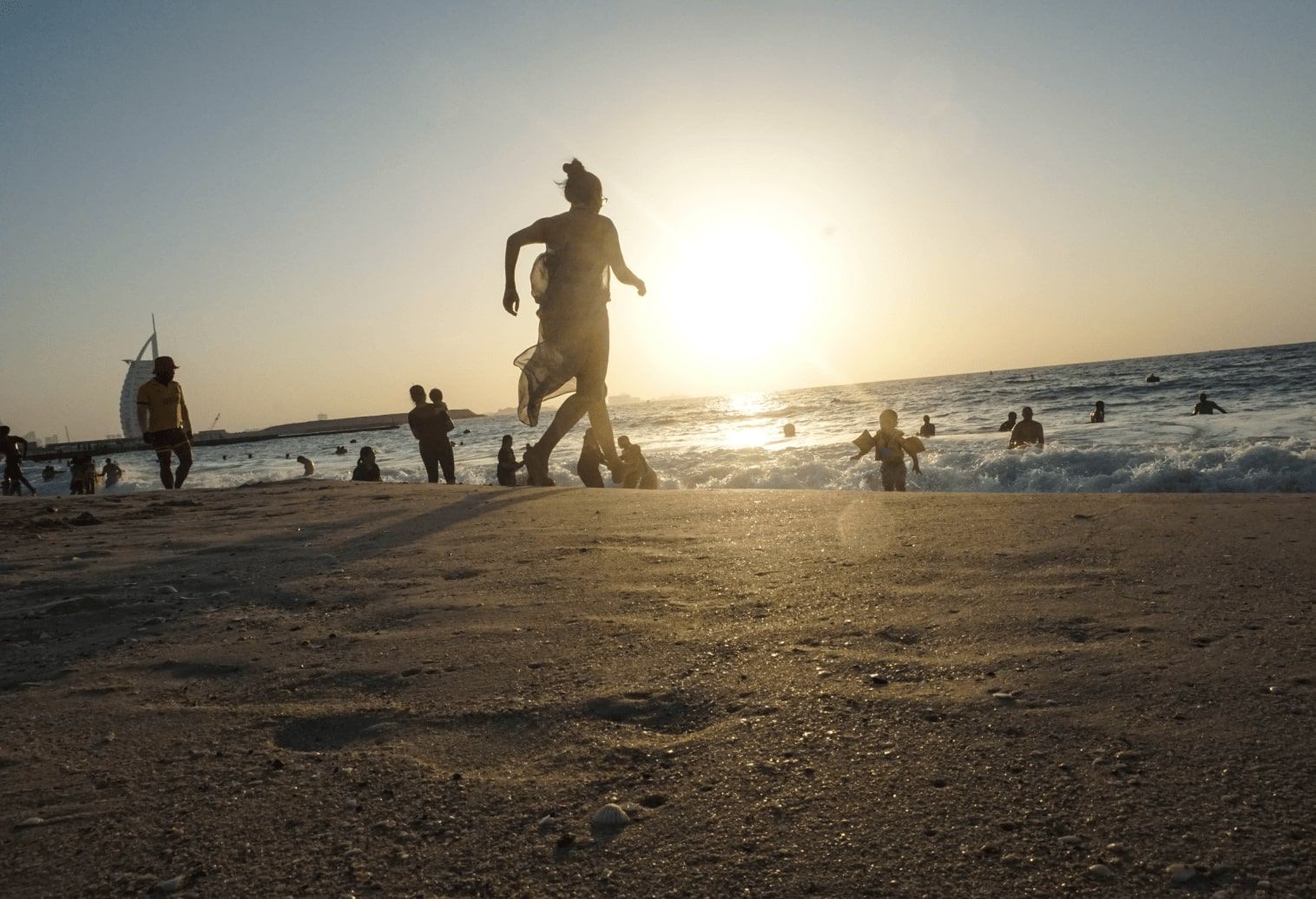 Sunbathing and beaches for sun worshipers
Al Burj beach Dubai is located on the West Coast of Musheireb Island in the Umm Suqeim municipality and has one of the best beaches in Dubai. All year round temperatures are warm (29°C) and safe for swimming. The beach is ideal for windsurfing, kite surfing and paddleboarding with crystal clear waters stretching far as the eye can see.
Dubai Marina Beach is located in the heart of Dubai Marina, this beach provides stunning views of the Lagoons and tennis courts built by Emaar Properties on reclaimed land areas, man-made islands in over words. It's a great spot to enjoy sunbathing, swimming or just relaxing in one of the many cafes and restaurants that dot the beach.
Jumeirah Beach Dubai is one of the longest beaches in Dubai, stretching for about 4 kilometres, and is one of the most popular tourist destinations in Dubai. It offers stunning views and a wide range of water sports such as swimming, windsurfing and snorkelling – among others - making it perfect for all kinds of travellers, from those looking for a relaxing holiday to those looking for something more adventurous.

The Palm Jumeirah Beach Dubai is a great place to enjoy the day with friends or family, either swimming, sunbathing, fishing or simply relaxing on the white sand beachfront. It also offers a range of water sports such as windsurfing and sailing for visitors who want to get up close and personal with nature. There are plenty of restaurants and cafes nearby if you need some refreshments.
Dubai Marina Beach is one of the busiest areas in Dubai. It offers plenty to do for all ages. Along with an amazing beach, the Marina area more generally includes a huge shopping mall, several hotels, an amusement park and even a water theme park! The beach itself stretches for over 2 kilometres, with crystal clear waters perfect for swimming. There are also several restaurants and cafes nearby if you need some refreshment or want to take a break from the sun.
Jumeirah Beach Park is perfect for those lazy days spent lounging in the sun, reading a book or just taking in the views. It's located right next to Jumeirah Beach Hotel and offers stunning views of Dubai Marina and The Palm Island.
Umm Suqeim Beach is another beach that is perfect for those lazy days, with crystal clear waters and beautiful white-sand beaches. It's located close to the city centre, making it easy to get to no matter where you are in Dubai.
The Beach at Jumeirah Resort beach is perfect for swimming, sunbathing and simply enjoying the views. It's situated right on the coastline of Dubai Marina, with crystal clear waters and plenty of sand to relax on.
Emirates Palace Beach is perfect for luxury lovers, with stunning views of Dubai's skyline and an abundance of shops, restaurants and cafes nearby for those who want to take a break from the sun and escape into a world of luxury. It's located next to The Palm Jumeirah Resort & Spas, making it easy to get to no matter where you are in Dubai.

All beaches have restaurants and cafes nearby if you need some refreshments and seek some shade during the afternoon sun. There are plenty of other beaches which can be found throughout the city, so you're sure to find your perfect spot!
Quickfire round! - nothing on the list caught your imagination? Take a look through this list of various interesting sites and activities to do in Dubai that will spark your imagination...
Dubai's indoor ski slope, known as Ski Dubai, offers a unique experience that is sure to entertain the whole family. With a variety of slopes for all skill levels, you can spend hours skiing or snowboarding in this cheerful and fun environment. Ski Dubai is just a short drive from the city centre, located in the Mall of the Emirates. With 22,500 square meters of indoor ski area and its very own 4 seater alpine-style chair lift, this is sure to make an intriguing and eventful experience for all involved.
You can take a camel ride through the desert If you're looking for an adventure. You'll be able to see spectacular views on your journey and maybe even spot some wild animals!
For those who want to see how the richest of the rich live, take a walk around the Dubai Marina, home to some of the world's best shopping and restaurants aswell as the mega yachts of the super wealthy. Whilst at the Marina, you can book a romantic boat ride through the Arabian Gulf from one of many providers found in the area – an unforgettable experience.
Dubai Aquarium is another interesting location that could be a good option for those interested in marine life. Big underwater world to explore here.

While we mentioned it in the beaches sections, the amazing palm shaped islands, the Palm Jumeirah make for some really intresting sight seeing and people watching. Take a walk on the world-famous man-made palm-shaped islands that can be seen from space! As iconic as it is beautiful, enjoy stunning views of Dubai and have a meal on the islands at one of the many of restaurants and bars on the island.
One landmark that's not to be missed, and that would indeed be hard to miss is the Burj Khalifa in Dubai, the tallest building in the world at 853.28 meters (2,716 feet). Take a panoramic elevator ride up to the top for an amazing view of Dubai and its surrounding areas. Along the same lines, another site that is not to be missed for those that enjoy heights or are looking for an adrenaline rush would be to take a ride on The Dubai Eye. The Dubai Eye is a 163-metre tall Ferris wheel, similar to the London Eye but bigger, that offers stunning views of Dubai from high up in the air.
Further, try sandboarding on the dunes just outside the city - hard to believe this is in Dubai but you can actually sandboard just outside the city on the dunes. It's an incredibly fun and adrenalin-filled experience that'll leave you feeling exhilarated!
Finally, explore Dubai's vibrant nightlife district, the best clubs include Sukhbaatar Nightclub, Hard Rock and Xperience nightlife.
Have we inspired you?
So with that we round off our list. We hope that you have spotted something that has inspired your imagination or that you might like to try on your next vacation in Dubai.